A publicly-traded company with Chanute roots is locating its manufacturing in the Safari Industrial Park, with expectations to create up to 30 jobs.
---
December 9, 2020 | Source: GREG LOWER   greg@chanute.com
American Rebel plans to build safes and bring manufacturing to Chanute from Mexico.  Once operational, the products will be assembled, packaged and shipped from Chanute.
"We're trying to bring it to the US," Chief Executive Officer Andy Ross said.
Ross' father, the late Bud Ross, founded Kustom Electronics and Birdview Satellite in Chanute and the primary street of the Industrial Park, Ross Lane, is named after him.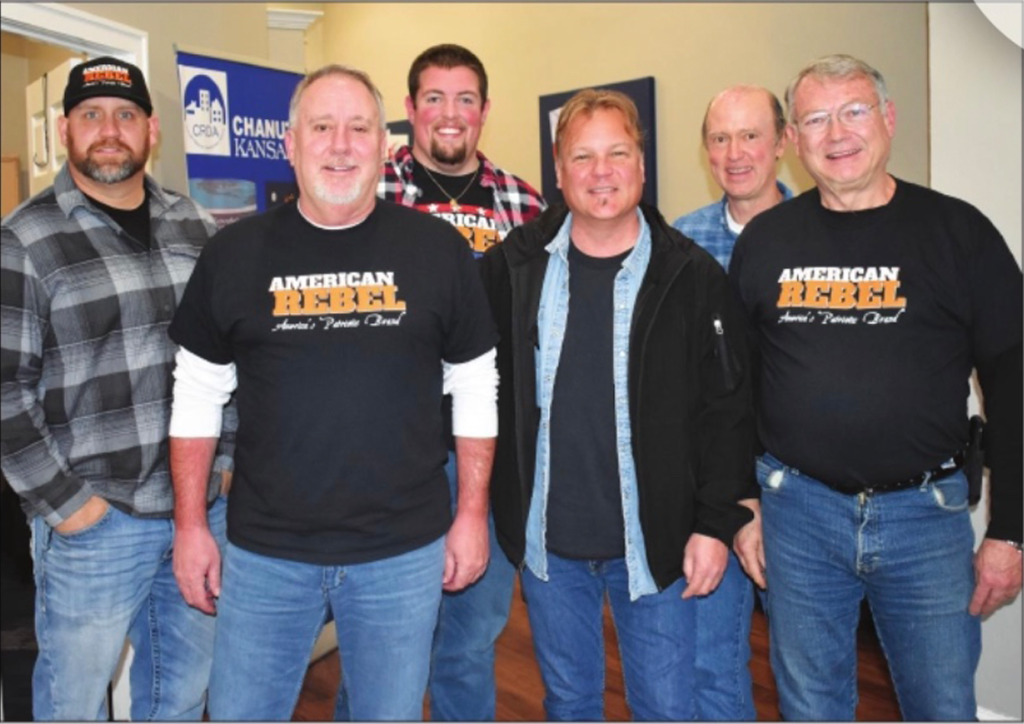 The American Rebel team plans to manufacture safes in Chanute Industrial Park.  Front row from left, Operations Control Officer Greg Tallent, CEO Andy Ross, Director of Operations Steve Small; back row from left, President Nathan Findley, Operations and Sales Manager Jordan Bath and American Rebel Holdings President Doug Grau.
---
"It is fitting that American Rebel's new manufacturing facility be located on Ross Lane in Chanute," Ross said.

---
American Rebel also has offices located in Kansas City, where Ross said they would remain.  It employs eight people there, primarily in sales.
The company has leased a 50,000-square foot building at 3800 ross Lane and plans to begin operations on a small scale Jan. 1 with 15 employees.  Ross said he expects to have 20 to 30 employees within 24 months, and will need 100,000 to 150,000 square feet in a couple of years.
American Rebel sells six models of safes, and by the end of 2021 Ross hopes to have eight to 10 models coming from Chanute.
Ross comes into manufacturing from the music industry.  He has released three CDs of music with patriotic themes and appeared on the Outdoor Channel and other cable outlets.  From his song "American Rebel," he developed products to support his music.
His Second Amendment support led to concealed firearms carry accessories, and then to gun storage safes.  He also has safes for general purposes and for secure cannabis storage.
The company has had $1 million in sales and forecasts to sell 4,500 units in 2021, with 2,000 to be made in Chanute.  After two to three years, he hopes to manufacture a minimum of 10,400 units a year, or 200 a week, all from Chanute.
The team includes Steve Small as director of operations and Andy's brother Stan Ross arranged capital for the project.
"I really want to give him a .. how much I appreciate my big brother stepping in," Andy Ross said.
Chanute Regional Development Authority Director Matt Godinez said CRDA will be working on incentives at both state and local levels.
He also said they would work to secure Industrial Revenue Bonds for construction and heavy equipment needs.
"We will be exploring all options with the City of Chanute so American Rebel can construct their new location successfully and efficiently," Godinez said.
He said it was rewarding to recruit a new business to Chanute plus work with a long-standing Chanute business.  Young's Welding of Chanute will provide sub-assemblies.
"Working with Darryn and his team at Young's is a dream come true for American Rebel," Ross said.  "We greatly benefit from their many years of steel fabrication experience and the scale of their operation."
He said he was happy to be back in Chanute.
"This town has been as good to us as we've been to the town." he said, adding that he planned "to come down here and kick ass."