A powerful storm system produced at least two tornadoes that struck central Tennessee early on Tuesday morning, including one that caused significant damage near downtown Nashville and killed at least 22 people as crews spent hours pulling survivors and bodies from wrecked buildings.
The tornado near downtown Nashville lit up the night sky with flashes of light as transformers blew and the storm reportedly stayed on the ground into Hermitage, about 10 miles east of the city.
"They need your prayers in Nashville, Tennessee," Fox News Senior Meteorologist Janice Dean said on "Fox & Friends." "This was an overnight, rain-wrapped tornado while people were sleeping and now they are waking up to extreme destruction, devastation and deaths in the Nashville area."
WHERE DO TORNADOES HIT THE MOST IN THE US? HERE ARE THE TOP 5 STATES
The Tennessee Emergency Management Agency said in a news release that at least 22 people were killed in the storms. In an earlier press briefing, Tennessee Gov. Bill Lee told reporters the deaths were centered in four different counties and there are a "number of people that are missing" in addition to "many" that are injured and being transported to area hospitals.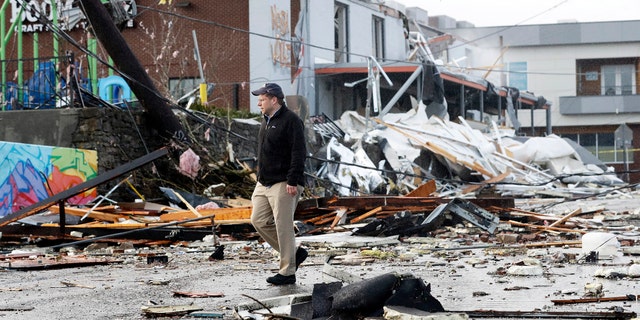 A man walks past storm debris following a deadly tornado Tuesday, March 3, 2020, in Nashville, Tenn. 
"We have had loss of life all across the state," Lee said, adding "It's a very difficult situation."
The Metro Nashville Police Department said at least two people were killed in East Nashville, while a TEMA official told Fox News that 16 people died in Putnam County. There were three reported deaths in Wilson County, two in Davidson County which includes that area of East Nashville, and one in Benton County, according to TEMA.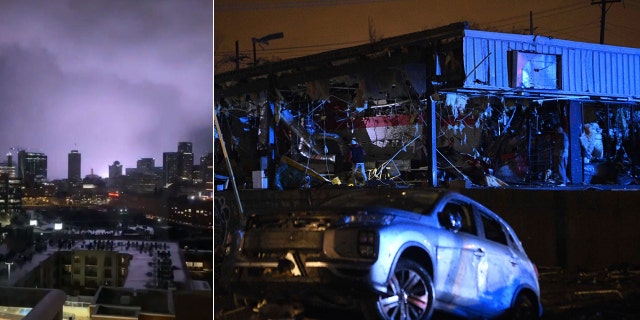 Metro Nashville police officers and fire crews were responding to about 48 building collapses around the city as neighborhoods were littered with blown-down walls and roofs, snapped power lines and huge broken trees. Search and rescue crews were fanning through neighborhoods searching for any injured people inside collapsed structures.
TORNADOES STRIKE NASHVILLE, CENTRAL TENNESSEE: SEE THE DAMAGE
"Last night was a reminder about how fragile life is," Nashville Mayor John Cooper said at a Tuesday morning news conference.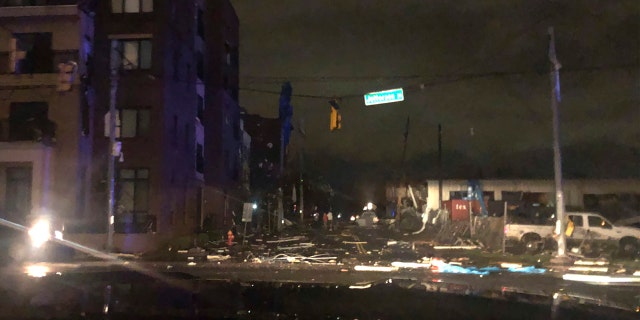 Debris scattered across an intersection Tuesday, March 3, 2020, in downtown Nashville, Tenn. The National Weather Service in Nashville confirmed a tornado touched down in the area. (Celia Darrough via AP)
"Prayers for all of those affected by the devastating tornadoes in Tennessee," the president said.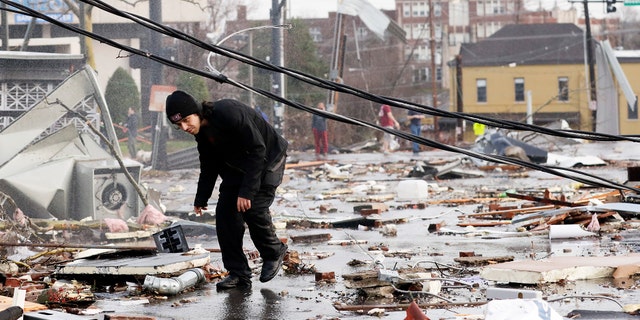 Residents captured shocking images of lightning strikes that turned the sky purple and pink as the tornado that struck Nashville started barreling through the city around 1 a.m.
According to Dean, forecasters believe the tornado that struck Nashville was an EF-3 that went through a "heavily-populated area." Tornadoes estimated to be an EF-3 are considered to be strong, with winds between 136 and 165 mph, and they create "severe" damage," according to the National Oceanic and Atmospheric Administration's Storm Prediction Center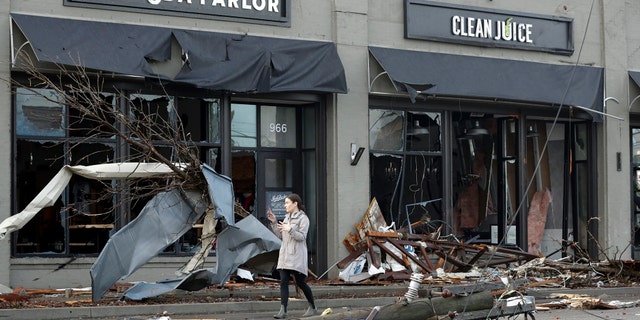 A video posted online from Sam Shamburger, the lead forecaster at the National Weather Service Nashville,  showed what appeared to be a well-defined tornado moving quickly across east Nashville. Lightning repeatedly flashed while much of the city was in the dark.
The whir of the wind could be heard after the tornado moved out of sight.
"It sounded like someone was just throwing bricks at the windows," a man named Mark told FOX17 in one of the hardest-hit neighborhoods.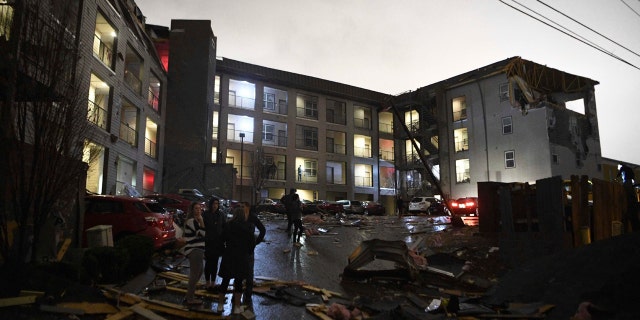 Some schools already closed for Super Tuesday voting will be kept closed for another week or more to handle repairs due to damage from the storm, according to FOX17.
Metro Nashville Public Schools said its schools would be closed Tuesday because of the tornado damage. Wilson County, just east of metro Nashville will close schools for the rest of the week. Election polling sites at schools were expected to remain open, as well as district offices, according to tweets from its official account.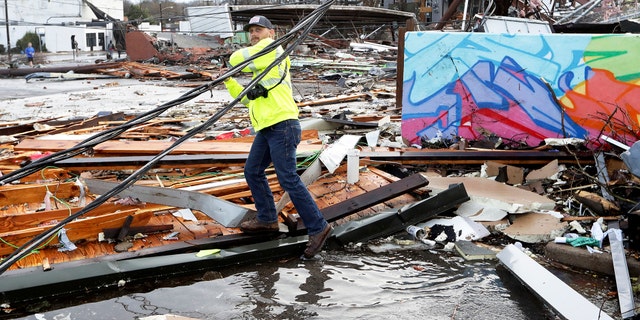 Jeff Roberts of the Elections Commission said in a statement early Tuesday that information about damage to polling stations is being collected as polls open for Super Tuesday. Any voter in Davidson County whose assigned precinct has been impacted may vote at the Election Commission Offices, the statement said. Polls open at various times, starting at 7 a.m. CST, depending on the county.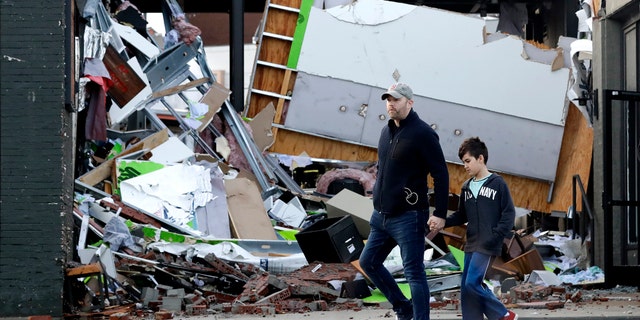 The historic Germantown neighborhood in Nashville sustained some of the greatest amounts of damage.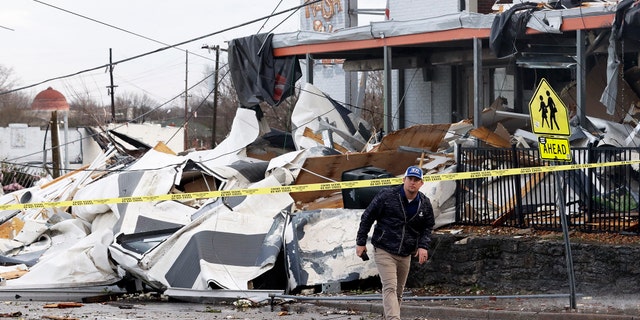 Daylight revealed that roofs had been torn off apartment buildings, large trees uprooted and debris littered many sidewalks. Walls were toppled, exposing living rooms and kitchens in damaged homes. Mangled power lines and broken trees came to rest on cars, streets and piles of rubble.
TORNADO WATCH VS. TORNADO WARNING: HERE'S THE DIFFERENCE
Germantown and East Nashville are two of the city's trendiest neighborhoods, with restaurants, music venues, high-end apartment complexes and rising home prices threatening to drive out long-time residents.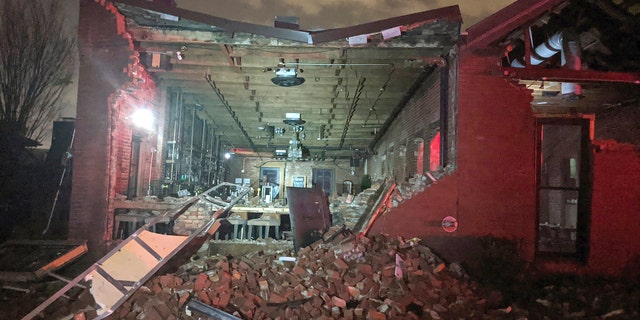 The Basement East, a live music venue in Nashville, reportedly "sustained significant damage," but all staff working inside are OK, the venue's Twitter account said.
The American Red Cross of Tennessee said on its Twitter account that a shelter had been opened for displaced residents downtown at the Nashville Farmers Market, just north of the state capitol.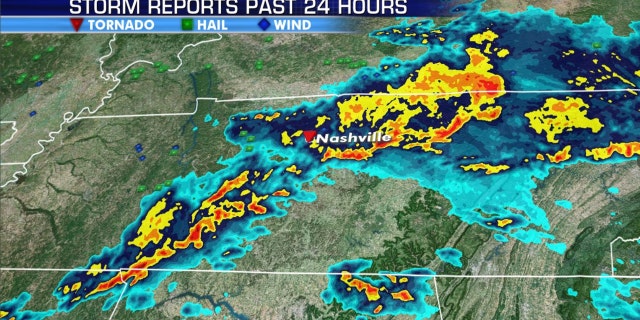 In the town of Mt. Juliet, police urged residents to stay inside their homes after a tornado struck in the early hours of Tuesday morning.
"Our community has been impacted significantly," the Mt. Juliet Police Department tweeted early Tuesday. Multiple homes were damaged and multiple injuries were reported, the department said. "We continue to search for injured. Stay home if you can."
Police shared a map that illustrated the path the tornado took through the area.
Multiple people are reportedly injured and police continue to search for residents. Homes are also heavily damaged, with significant damage reports coming in from the Secretariat Drive area, according to FOX17.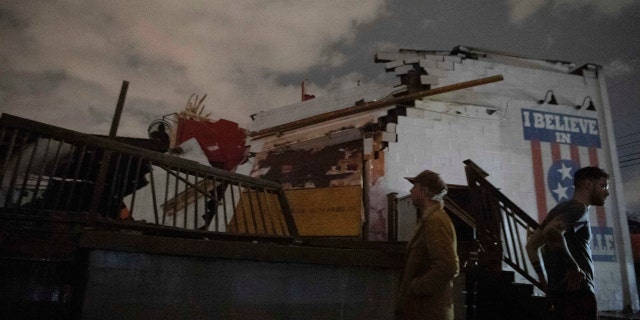 A reported gas leak forced an evacuation of the IMT building in the Germantown community, according to WSMV-TV. Photos showed dozens of people in the street carrying their belongings not long after the tornado moved through the city.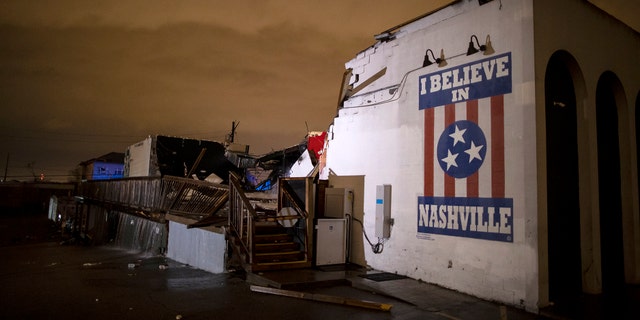 John C. Tune Airport, Nashville International's sister airport in West Nashville, "sustained significant damage due to severe weather," spokeswoman Kym Gerlock said in a statement early Tuesday morning. Several hangars have been destroyed and power lines are down, she said, adding that there are no reported injuries.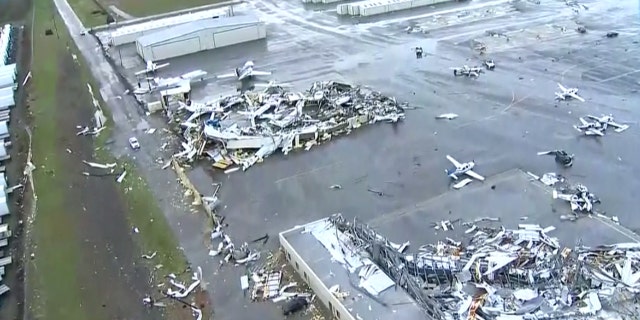 Gerlock asked that the public avoid the airport until further notice and that the Airport Authority has activated its Emergency Operations Center to coordinate response.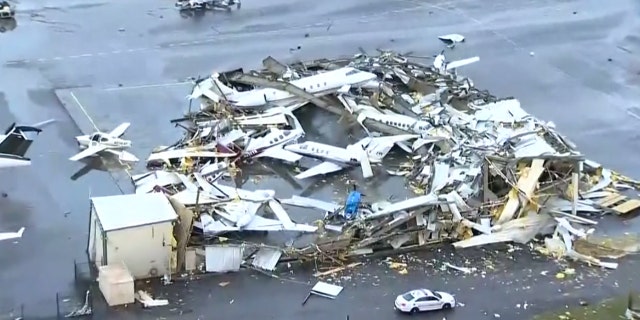 Nashville Electric tweeted that four of its substations were damaged in the tornado. Power outages as of 4 a.m. were affecting more than 44,000 customers, the utility company said.
CLICK HERE FOR MORE WEATHER COVERAGE FROM FOX NEWS
The NSW had declared the storm "a severe threat" on Monday morning, adding "a tornado can't be ruled out."
The storm system left just scattered rain in its wake as it moved eastward, with a line of storms stretching from near Montgomery, Alabama into western Pennsylvania. Strong cells capable of causing damage were spotted in central Alabama, eastern Tennessee and the western Carolinas.
Early morning storms also damaged homes and toppled trees in rural central Alabama, where the National Weather Service reported winds up to 60 mph and issued tornado warnings for at least five counties.
In rural Bibb County southwest of Birmingham, seven poll workers were getting ready to open the doors to Super Tuesday voters at the Lawley Senior Activity Center when cellphone alerts began going off with a tornado warning about 6:45 a.m., volunteer Gwen Thompson told the Associated Press.
"Our children were calling too, telling us, 'Get in the bathroom!'" she said. "We all got in the bathroom and we're OK, but lots of trees are down."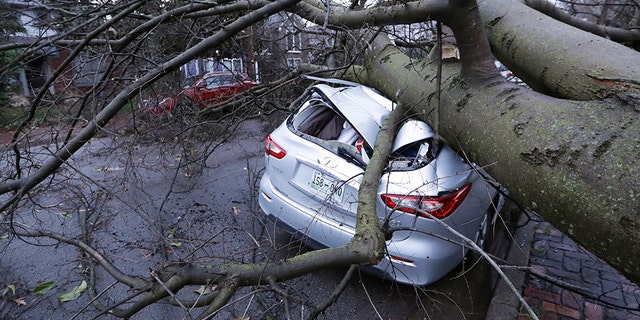 The tornadoes that ripped through central Tennessee on Tuesday came a year to the day that multiple tornadoes tore through Georgia and Alabama, killing 23 people.
Fox News' Elina Shirazi in Nashville, Fox News' Kathleen Reuschle and The Associated Press contributed to this report.